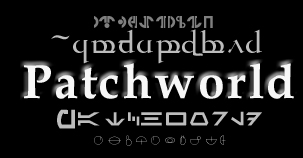 Since 3-May-2001.

Welcome to the Patchworld!
This is the dimensional crossroads for all the realities (i.e., rpg campaigns) I have created and maintain. Cataloguing and administering all these different planes is a lengthy process, but I intend to finish it eventually. So, if one of the wormholes takes you to the dreadful 404 Dimension, be patient and come back some other time in the near future.
Enjoy!
---

21-November-2020
Other: KAHLESS
26-April-2020
Other: Unisystem: Unisystem Amber PDF
30-January-2017
Other: Patternbound
---


A generic system created by the Fuzion Labs. I use it for supers.
Silver R.I.N.G. - After a great tragedy, new heroes stand up to take the places of fallen legends.


Another generic system -- one of my favorites. I use it for almost everything.

The
Mayfair Exponential Game System
, first used for the now-defunct
DC Heroes RPG
.
Justice League South America - The chronicles of the tropical super-heroes.
Paraworld - A superhero universe which ended up serving as base for other universes.

A catch-all category that includes systems I have used for one game only or that were added more recently and have a central page for them..
Shadowrun - Street samurai, mages, shamans and deckers eeking out a living in the grim world of the shadows of Seattle 2057.
Rio by Night - The aborted Vampire: The Masquerade sourcebook for Rio de Janeiro.
Unisystem - A page dedicated to my games using the generic system of C.J. Carella's WitchCraft RPG.
The Price of Freedom - A play-by-forum rpg set in the Star Wars universe and powered by There Is No Try, a slightly modified version of Steve Darlington's There Is No Spoon.
Peace & Light - Notes for using the PDQ system to run games set in the Star Wars universe.
Forcebound - Star Wars by way of Godbound.
Patternbound - Chronicles of Amber by way of Godbound.
KAHLESS - A Pendragon hack for playing Klingons
---

---


If you have sugestions, have located some incongruency in any of the realities or just want to say hello,
please contact me at fred at patchlord do com.

You are now leaving the Patchworld.
Come back soon!
Last Update: 21-Nov-2020 19:43