OLD UNISYSTEM WRITE-UPS:
MARVEL
This page contains old write-ups of Marvel characters.
---
DC Heroes
JOHN CONSTANTINE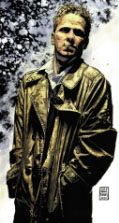 Write-up by André Luis de Oliveira Cruz
Concept: Reluctant Hero
Type: Lesser Gifted
Appearance: 178 cm, 68 kg; blue eyes, blond hair
| | | | |
| --- | --- | --- | --- |
| STR | 2 | INT | 3 |
| DEX | 3 | PER | 5 |
| CON | 2 | WIL | 5 |
Life Points: 26
Endurance Points: 32
Speed: 10
Essence: 45
Drama Points: 15
Qualities: Contacts (Chass 4), Essence Channeling 3, Gift
Drawbacks: Accursed -3, Addiction (Alcohol -1, Marijuana -1, Tobacco -3), Reckless
Skills: Brawling 1, Dodge 2, Driving (Car) 2, Gambling 2, Musical Instrument (Guitar) 2, Hand Weapon (Knife) 1, Occultism (Demons) 7, Smooth Talking 4, Streetwise 3, Rituals 3, Research 2
Languages: English (Native) 5, Latin 4
Metaphysics: Warding 4, Affect Psyche 4, Extra Essence +25, Lesser Illusions 4, Spirit Master (Demons) 5, Symbols of Protection 4
History: John Constantine is a Solitary mage who works independently fighting the supernatural. Constantine belongs to a family with a long history of association with the occult and, unfortunately, also accursed. His curse is that everybody around him tend to either get hurt or become his enemy due to supernatural forces. He smokes and drinks a lot, and, sometimes, lights a joint. He is very self-confident, making him displicent once in a while. His contact is his good friend Chass, a taxi driver who does anything he asks. Chass is loyal and will never say no to Constatine.
Note from Fred: I am not sure Constantine should be Gifted. Although certain things he does in the comics could only be accomplished in a WitchCraft game by a Gifted, this is not necessarily true for the DC Universe. In fact, I remember that humans were not supposed to be able to handle magic in the way Zatanna, Doctor Fate and the other heavy wielders did. Only Homo magi, a different "human" species (Zatara and Zatanna's), could do it. Humans needed rituals, long spells and such. Of course, this might have changed in one of the many retcons. On the other hand, maybe his constant contact with the supernatural changed Constantine into a Gifted.
---
Well, enjoy it! And if you want, you can drop me a line at fred@planetfred.net or leave a comment at the PatchComm.

This page is hosted by Geocities (get your own free homepage!).